How this small group series works (VIDEO)
Welcome to this small group series on Anxiety as Opportunity for Spiritual Growth. This series consists of seven sessions, each with short video segments, discussion topics, prayer and time for individual reflection.
---
JOINING THE SERIES
IMPORTANT: To participate, every member of the small group must first enroll in the series here.
In the simple enrollment process, you will have the opportunity to "Add Coupon." If your church, small group, or some other party has already paid the enrollment fee, you should have been provided with this coupon code.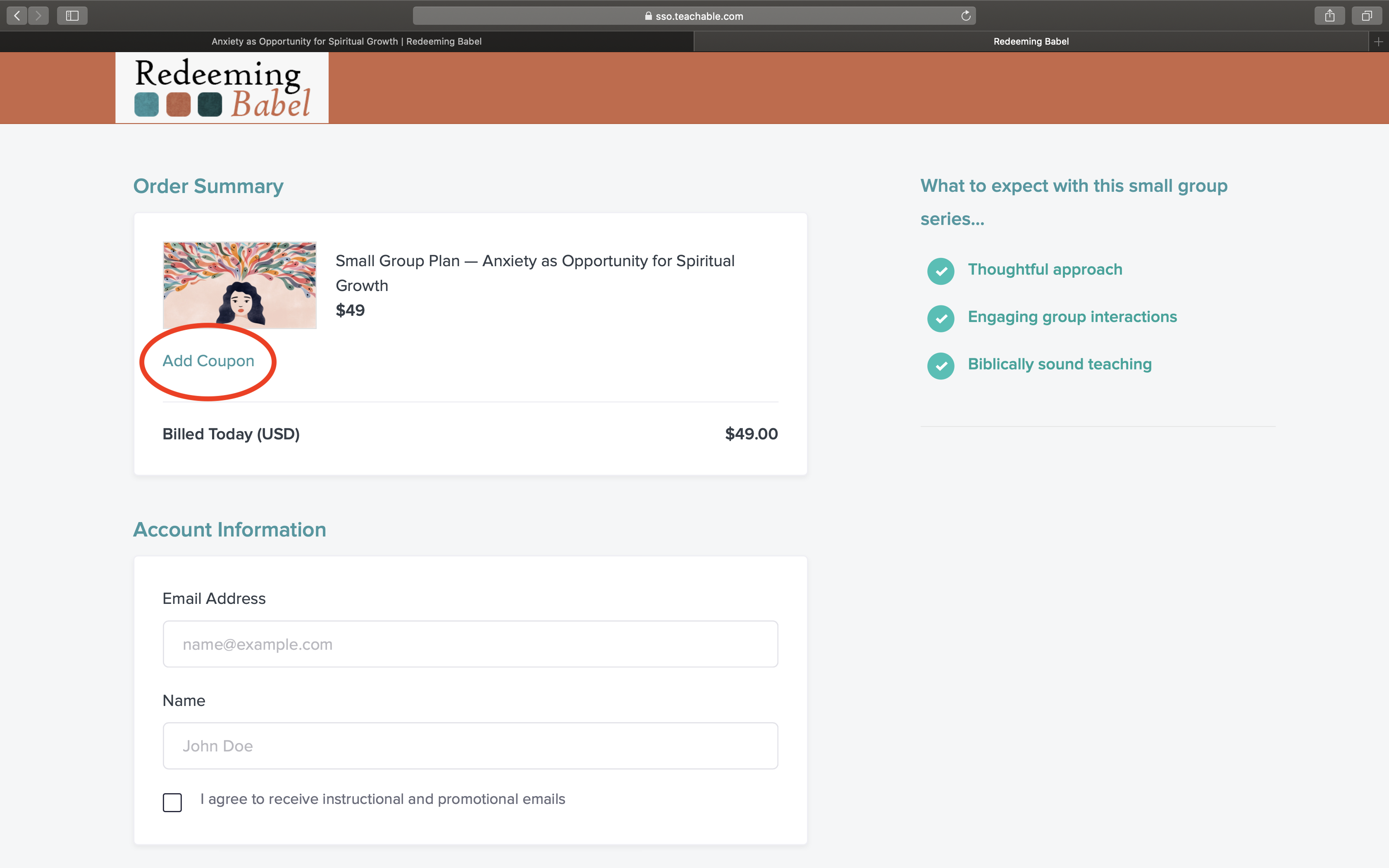 Enrollment will give you access to the video teaching, exercises, Participant Workbook, follow up instructional resources via email (if you allow this option - we promise we won't share your email with any other party), and other benefits.
After you enroll, just download and print out the Participant Workbook and you are ready to go!
---
DURING THE SERIES:
If your small group is meeting in person, you will watch the video segments together on a common device like a laptop (ideally connected to a larger screen if possible).
If your small group is meeting remotely, you will view the video segments on this site individually on your own computer. This will require having your browser open to this site while also having your video conference application open for the interactive segments. Keep both open simultaneously for easy switching. While watching the videos on this site, you should mute and minimize your video conference application (with Zoom, this keeps it open as a small window while you are on this site). We strongly recommend against having one person play the videos for everyone via Zoom's screen share function as this leads to highly inconsistent playback experiences.
Each session should take approximately one hour in total. We recommend budgeting at least 90 minutes for your entire small group experience (including chatting, announcements, ice-breakers, etc.)
For each session, have your Participant Workbook printed out and a pen. It is also a good idea to have a Bible with you.
---
CREDITS:
VIDEO FILMING AND EDITING BY JOSH KIDWELL;
CONTENT CONTRIBUTION BY JODY CHANG.